Giving you the time to care.
Remote healthcare has evolved
Neugo works with governments, hospitals and healthcare providers to make remote medical consultation available to anyone.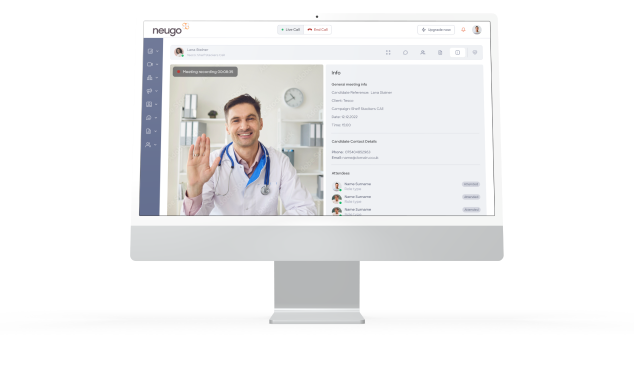 Remote consultation
Neugo provide virtual clinic and remote medical consultation with a simple, secure easy to use interface that removes the barriers to patient adoption, helping hea-lthcare providers to reduce operational and carbon cost.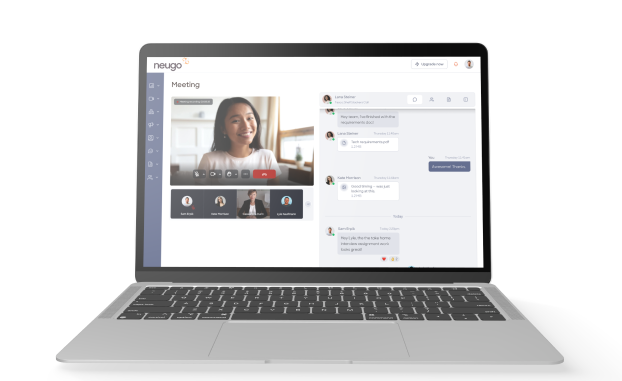 Secure, efficient collaboration
Patient information such as medical history or test results is kept securely all in one place and mapped to specific clinical workflows. Invite colleagues during real-time consultations or share recordings or transcriptions for post-consultation review.
Secure, integrated healthcare technology
Neugo works with the NHS to ensure we are able to deliver on local NHS Hispital Trust and GP requirements.
Partnering with NHS Digital neugo is able to integrate seamlessly with the NHS Application to access patient information securely and push messages through the NHS app, email or sms relating to online or f2f consultations.
We make it easy for Hospital Trusts, GPs or 3rd Party Healthcare providers to access patient data securely and provide a simple intuitive patient experience.
Learn more and download our NHS Case Study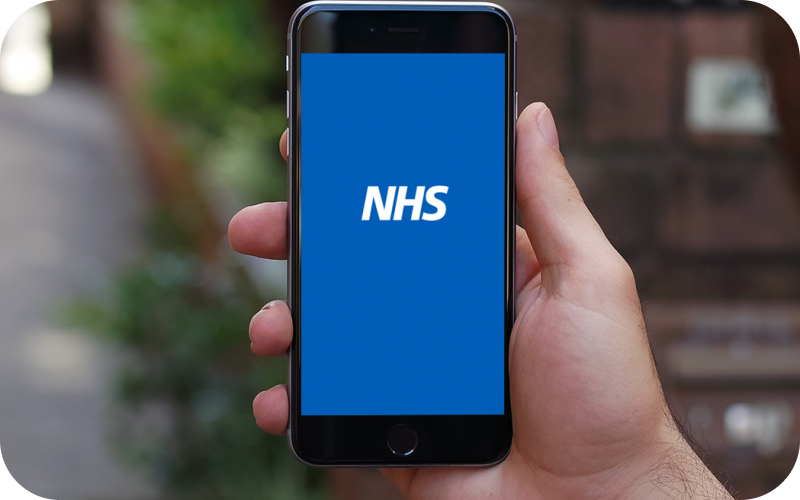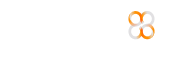 Towards net zero healthcare systems
The NHS has a goal of becoming the first net zero healthcare system in the world.
Neugo remote consultations and clinics can help reduce embodied operating carbon costs by reducing construction, building power requirements and transportation.
Neugo can help you to calculate the carbon saving per consultation or clinic and help you make measured steps towards providing greener healthcare for all.
Learn more and download our NHS Case Study

Evolve your remote clinics and consultations with Neugo

Simple, secure collaboration
Video calls that link to clinical workflows, easily sharing and collaborating with internal teams or external medical specialists

Faster, structured online consultations
Drive efficiency in your online clinics with pre-built workflows, virtual waiting rooms and automated messaging to give your teams time back to care

Data-driven insight
Measure what matters and ensure you are meeting your Healthcare KPIs with neugos easy-to-use reports. You can filter, export, and drill-down on the data in a couple clicks.

Improve your Patient communications
It's easier for patients to meet you online. Store all patient notes and medical history in one place and ensure regulatory compliance.

Integrate the tools you already use
Neugo maps to clinical workflows. Integrating with existing collaboration tools such as Microsoft Teams neugo helps you get greater value from your existing technology investments.

A better all-round experience
Patients, Nurses and Doctors have provided feedback that neugo makes your remote working better. Improving employee productivity and wellness by giving time back.
'King's Commercial have been working closely with Flabba [Neugo] for a number of years. We use their recruitment management and online video platform and it has reformed our recruitment processes and standards.
We've had the opportunity of introducing Flabba [Neugo] to our clients for their in-house services, including recruitment and document management.
Since using the video platform in particular, Flabba [Neugo] has contributed to reducing our time to hire. This has positively impacted our number of nurses placed per year.'
Althea Bowen – Head of Nursing Recruitment

Evolve your remote
recruitment
clinics
legal client meetings
board governance
visa applications
financial product sales meetings
recruitment
Join our growing Neugo community
Contact us
We'd love to hear from you
Our friendly team is always here to chat.